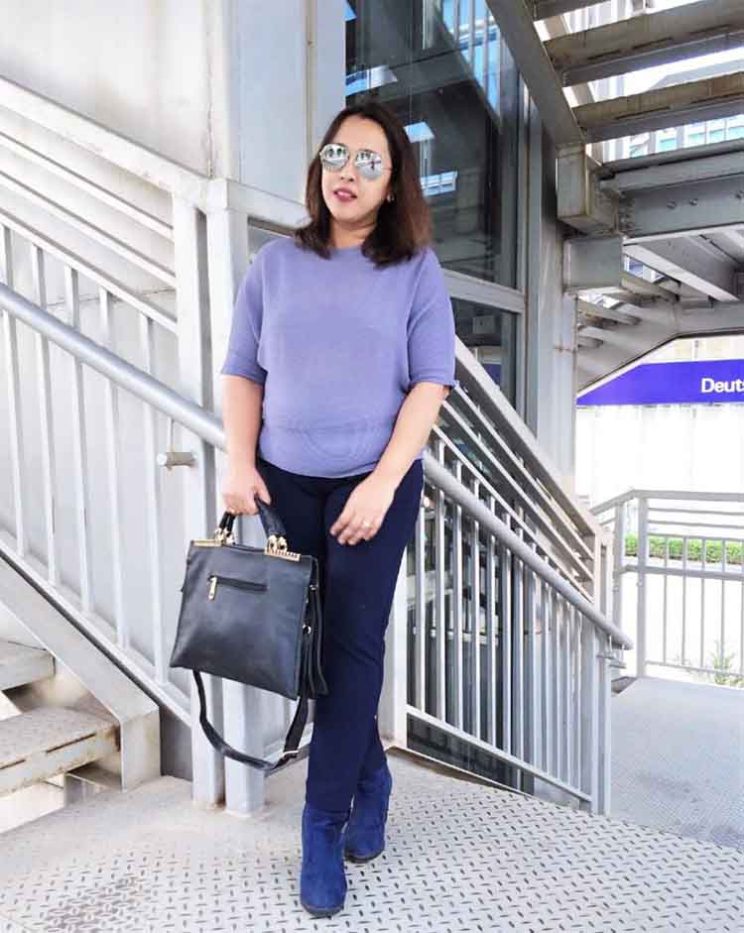 It is undoubtedly one of my favorite seasons; the nip in the air, the wide clothing options, light layering, aroma of freshly brewed coffee and the onset of festivity in the air! And I am always excited to style my best looks of the year during this season. I have talked about a few fall trends in the last few posts. But between the fall color palette & the trending fall prints, I promise to bring you a whole lot of killer fashion styles that would definitely add to the already existing autumnal excitement!
Fall definitely calls for a more relaxed, easy & comfortable take on things. I believe its truly a season of fun & celebration. And today's post is all about putting together a very relaxed & breezy office outfit without getting into something too tailored or overwhelming. In my last post I talked about Martini olive as one of the trending fall colors of this season. In this post my inspirational piece is a fitted stripes jumper which is in shades between charcoal & lavender and which fits like second skin. It is a color that is luxe & rich. It is truly one of those pieces that is fall inspired, cute, chic and most office appropriate.
So I put together today's office look with my slim fit navy pants as my bottoms that undoubtedly are a work wear staple. Navy is definitely a classic; it's polished and it's a must for an office wardrobe. But my pants are not too structured because I really wanted to give a cooler vibe. The lavender jumper and the navy pants pretty much formed the basics around which I styled my accessories. I ditched the blazer/ jacket this time to prove that office looks without a blazer work equally well. I added a matching pair of navy boots for that touch of fall. If that is too much of navy for you, you can always replace with the staple black/tan boots. But I opted for navy in order to carry the symmetry & length of my bottom. It is an old trick that makes me look taller and adds an unexpected touch of chic to the overall look. I finished the look with my black, tailored bag that works supremely well for semi-formal & professional style. Black again is a classic office hue and works effortlessly for all office-wear including the accessories like shoes & laptop bags. My bold & muted berry lip color pulled the whole look together!
So for all days when you are feeling a bit tardy, this sort of an easy & informal work outfit works splendidly. Do give it a try!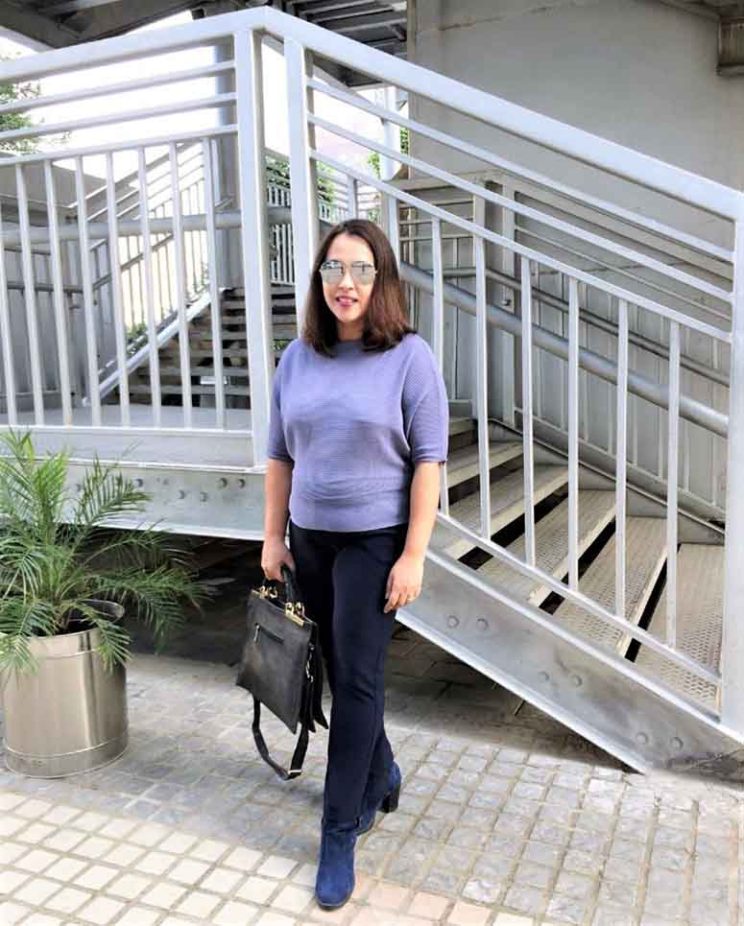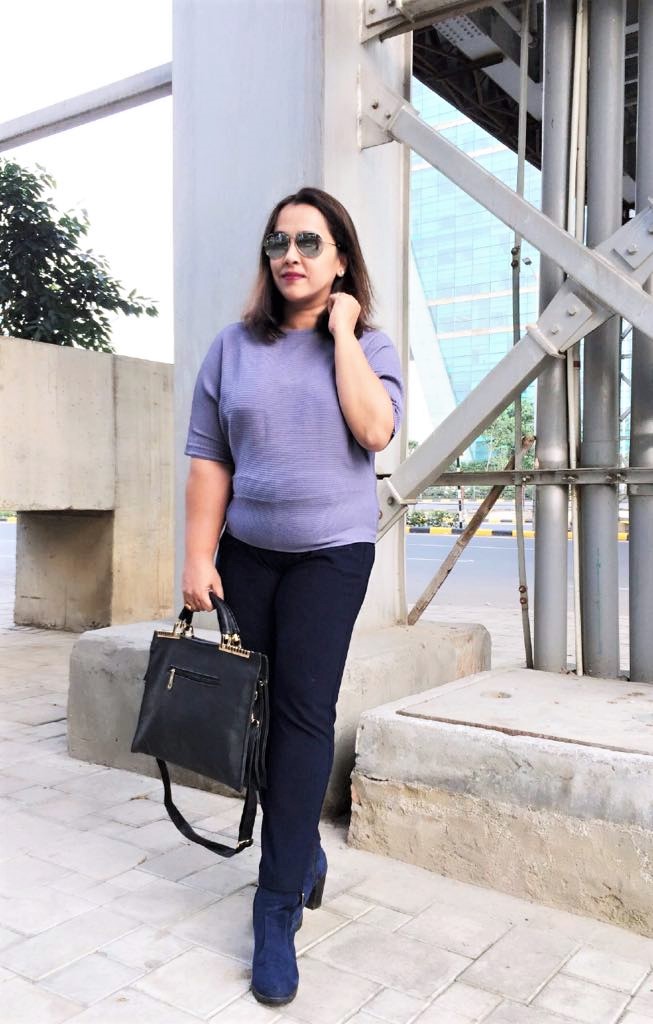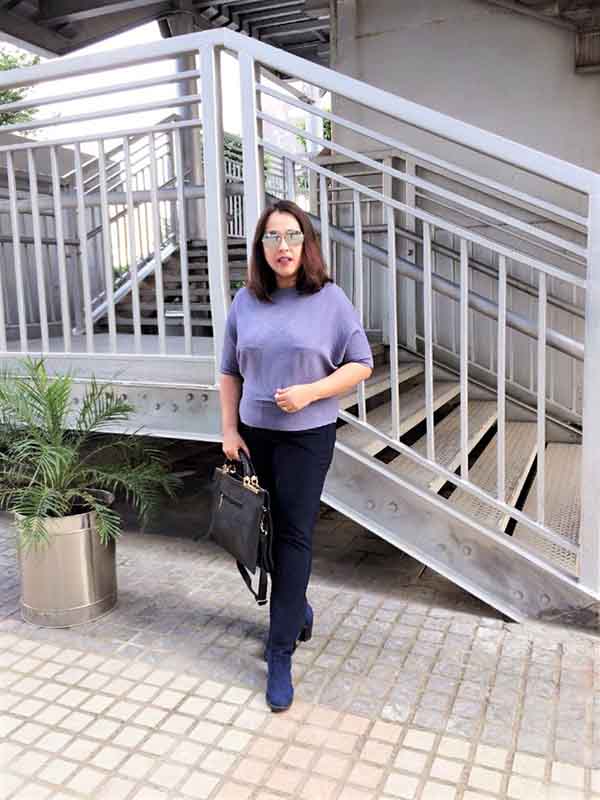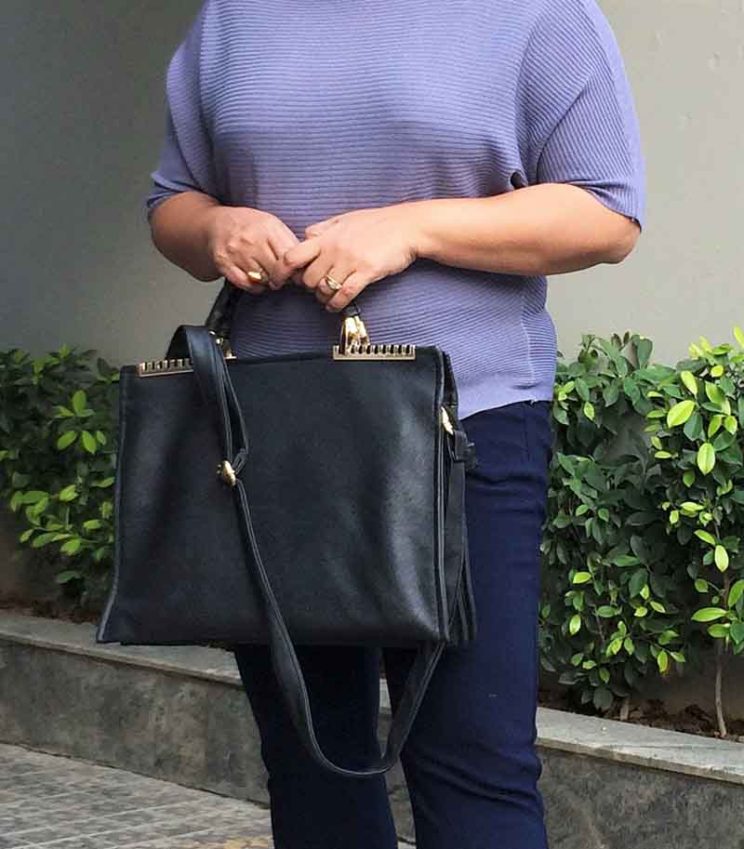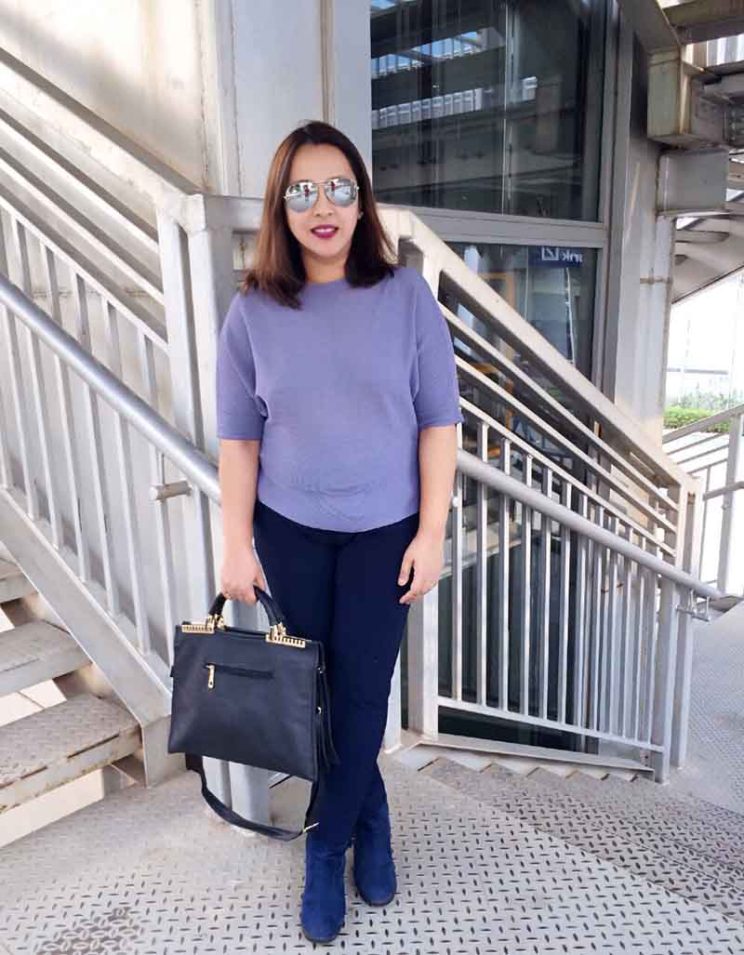 Jumper: Serenity (Rajouri Garden Market) | Navy Pants: Pantaloon (Similar here & here) | Navy Suede Ankle Boots: Bruno Manetti (Similar here & here) | Bag: Lavie
FOR CONSTANT UPDATES, CONNECT TO:  FACEBOOK | TWITTER | INSTAGRAM