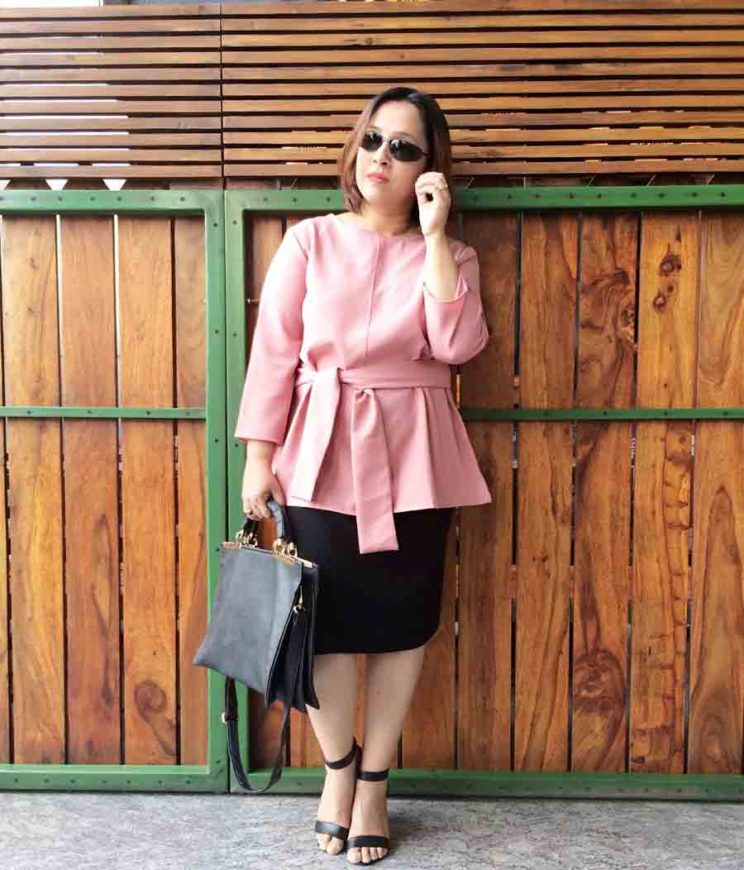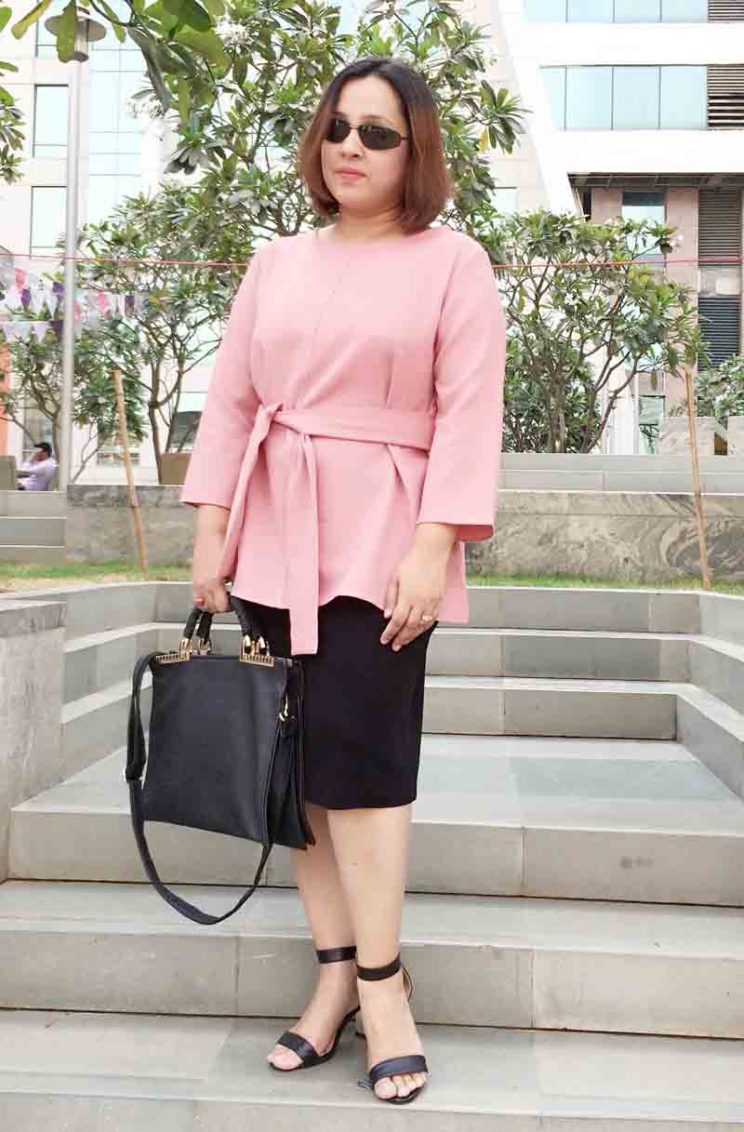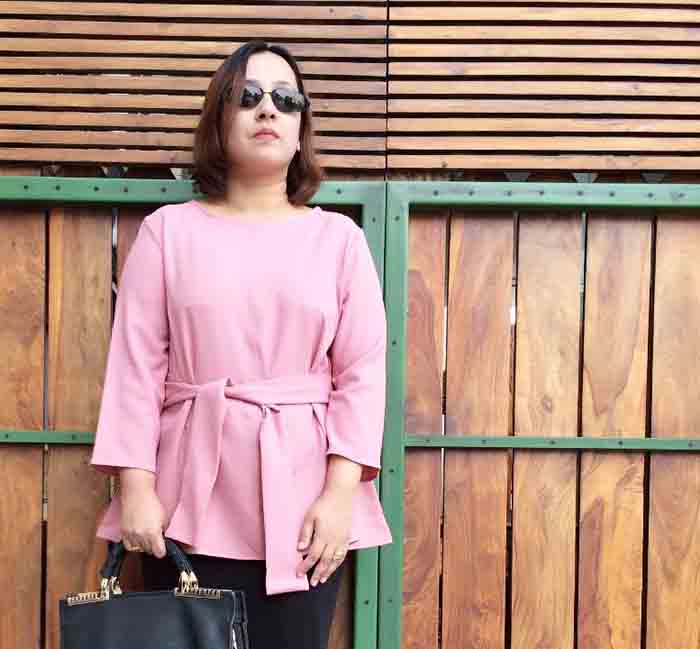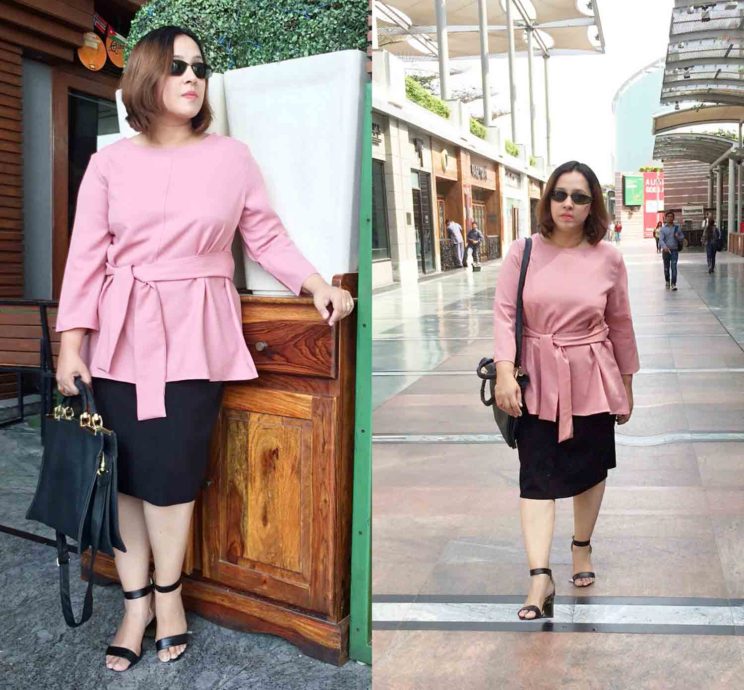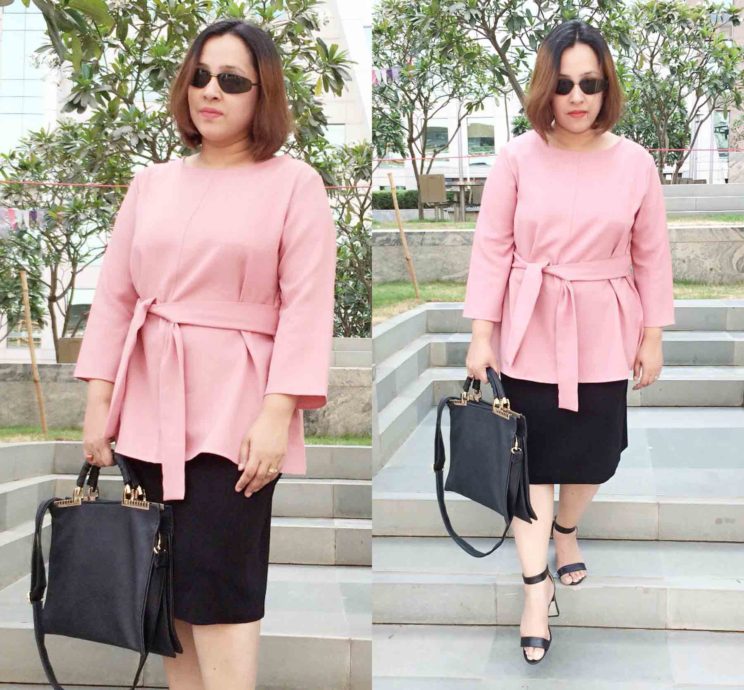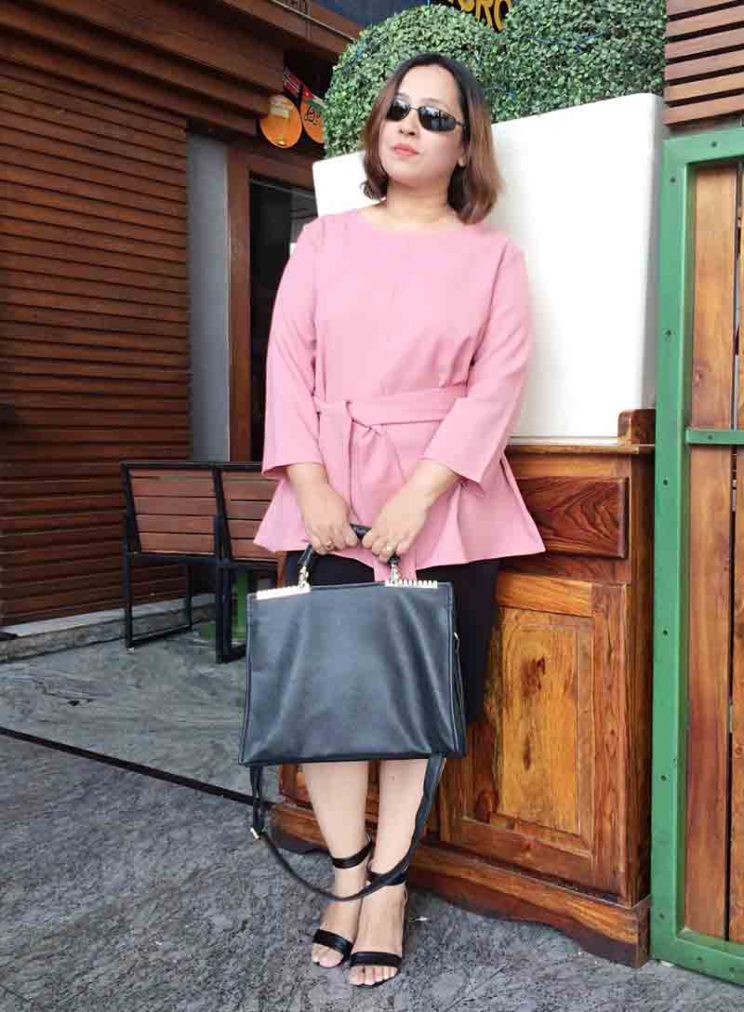 Belted Pink Top: Rosegal | Pencil Skirt: Misook | Black Strap Sandals: Vicenza | Bag: Lavie | Sunglasses: Lenskart
I am sure you guys must be wondering about the excessive delay in this post. Well just certain matters at home that were keeping me busy. But I am not really the types to be MIA for long. So here I am with a fresh post that dwells upon creating a minimal, effortless, work look this summer. But before I really get on to the post, there is a piece of information that I am super excited to share with you all. Well DeeSayz has been listed as one among the Top 30 Minimalist Fashion Blogs and Websites by FEEDSPOT.COM. A big THANKS to Feedspot and to you all for your constant love, support & motivation.
Coming to the post, I am not going to talk about the clichéd navy, black and grey pieces put together for an office look. How about a muted, pale pink for starters! This is a color that is so feminine yet not over-the-top. So today let us concentrate on building up a girl boss look for this summer that is simple, chic, minimal and effortless. I have come up with a five step guide to get you work ready within minutes (that is normally the time we have each morning before we head to office :))
1. Statement Top
You can easily skip your navy blue, white or grey button down shirt/top and go in for a statement top (think understated ruffles, sleek cuts, flattering wrap styles, statement sleeves) with feminine colors in pastel/ muted tones that speak more of your personality rather than making you look a female version of your male boss/ counterpart. Make an impact with cuts, feminine shapes and flattering silhouettes.
2. Tapered Skirt
Well this is nothing out-of-box but then ditching your straight pants/ structured trousers is sometimes a good idea if you do not wish to adopt the regular office style. Tapered skirts also popularly known as pencil skirts give a nice, flattering shape to your body and look absolutely smart & slick. If you need to be office-ready, you can count on this style of skirt without thinking twice. And off-course, there is nothing more classic or versatile than a black one!
3. Black Strap Sandals
There is nothing more minimal, classic or chic than a pair of black strappy sandals. These definitely add that semi dressy vibe to your office look while keeping the entire look understated yet making a subtle statement. Additionally they allow your feet to breathe as opposed to pumps & peep-toes, considering the extreme heat wave of summers. These are a great way of looking stylish without putting in much effort!
4. Structured Bag
It goes without saying that you need a structured handbag/ laptop bag to add that instant executive chic to your outfit. Anything that spells neat, clean, minimal lines is a perfect go-to office bag. No slouchy bags, backpacks, designer studded bags, bucket bags, drawstring bags, etc. for office. Also make sure that you stick to neutral palettes of black, grays & beiges. Bright colors, fluorescent tones and metallics are a big NO.
5. Chic Summer Shades
Sunglasses are a must be it any season. Although I have a few pairs on the go, it's all about finding that one special pair that becomes a part of your personality. For me cat-eye is the style that totally defines me. It is important to choose a style that you are comfortable in be it aviators, wayfarers, oval or round. Only make sure that you do not wear brightly colored reflectors such green, blue or orange which are a strict no-no for office.
Time to a give your own little minimalist, chic, spin to your office wardrobe. Give it a try and you would be surprised with the results. Do keep me posted in the comments below!
FOR CONSTANT UPDATES, CONNECT TO:  FACEBOOK | TWITTER | INSTAGRAM