At this juncture, I would like to bid farewell to 2016 and welcome 2017 with full zest and enthusiasm. I would not call 2016 as one of the best periods of my life personally but professionally its been a great year that has laid the foundation for DeeSayz. Having completed one year of DeeSayz this December, I am completely sorted as far as my passion goes. With a full fledged plan laid out for the blog, I am really looking forward to making a mark in the fashion and styling industry with my little efforts towards educating the people about the finer nuances of fashion. It is extremely important that we pay a little attention to those small details while dressing up for our daily work because they go a long way in making a difference to our personality and defining our overall attitude towards life.
As they say—" It's not what you wear or who you wear that matters, its primarily how you wear that clearly shapes up your sartorial preferences" . A simple white T with a blue denim could be more impactful than the costliest of velvet dresses if worn correctly. With DeeSayz I am more than ready to bring to you those finer styling ideas and tips that make the outfit look stylish rather than just plain pieces of clothing.
Street style fashion ideas are another area to watch out for on DeeSayz in the coming months, since more than the runways its the street style that lays the inspiration for even the topmost designers to come up with collections that people identify with. So there will be lots more of such street moments that you may have normally seen but not really noticed while walking on the streets. I will try to cover many such moments that will unravel untold fashion stories and tacit fashion elements that could be inspirational in creating trends for the future.
And last but not the least, my passion for Bohemian minimalism! I am a huge fan of this style and will continue to provide my readers with more insightful tips on creating boho inspired looks with simple style techniques and fashion hacks.Contrary to the belief that bohemian dressing means a whole lot of folk and colorful prints, chunky jewelry, dramatic accessories, loud make-up, off-beat footwear, freakish head-gears etc., I have tried to adopt an approach of minimalism towards this style. This makes the boho look more adaptive to one's daily routine and lifestyle without looking over the top or raising eyebrows. Bohemian minimalism as a dressing technique is gaining huge popularity because of the certain edge that it carries giving the wearer that prominence and sophistication at the same time.
As I set my goals for 2017, I am proud to admit that 2016 has been a great learning experience both personally and professionally. As a wife and mother of two kids, I have certainly learnt to be more patient and to take things in my stride. There is nothing more calming than that cute cuddly hug from your little one or that one small phrase of love and appreciation from your family when you cook that same old dish even the twentieth time. As I grow I am learning to value even the smallest of gestures of the near and dear ones. After all, is life not a combination of these sweet, timeless moments!
Today's look is a typical gray and black winter look inspired by the festivity of Christmas & New Year. Long, chunky-knit cardigan in black & white melange yarn, with wool content from H&M is one winter piece of clothing that one can don over any kind of outfit. And voila! You already have a style statement.But the highlight of my look today is the Zara tassel loafers. These are such a cute pair of shoes and a perfect investment for all those who wish to look stylish.These mid heel loafers will definitely be my round the year staple for all seasons. I added the statement neck-piece to match with the festive vibe of December. Hope you like the look!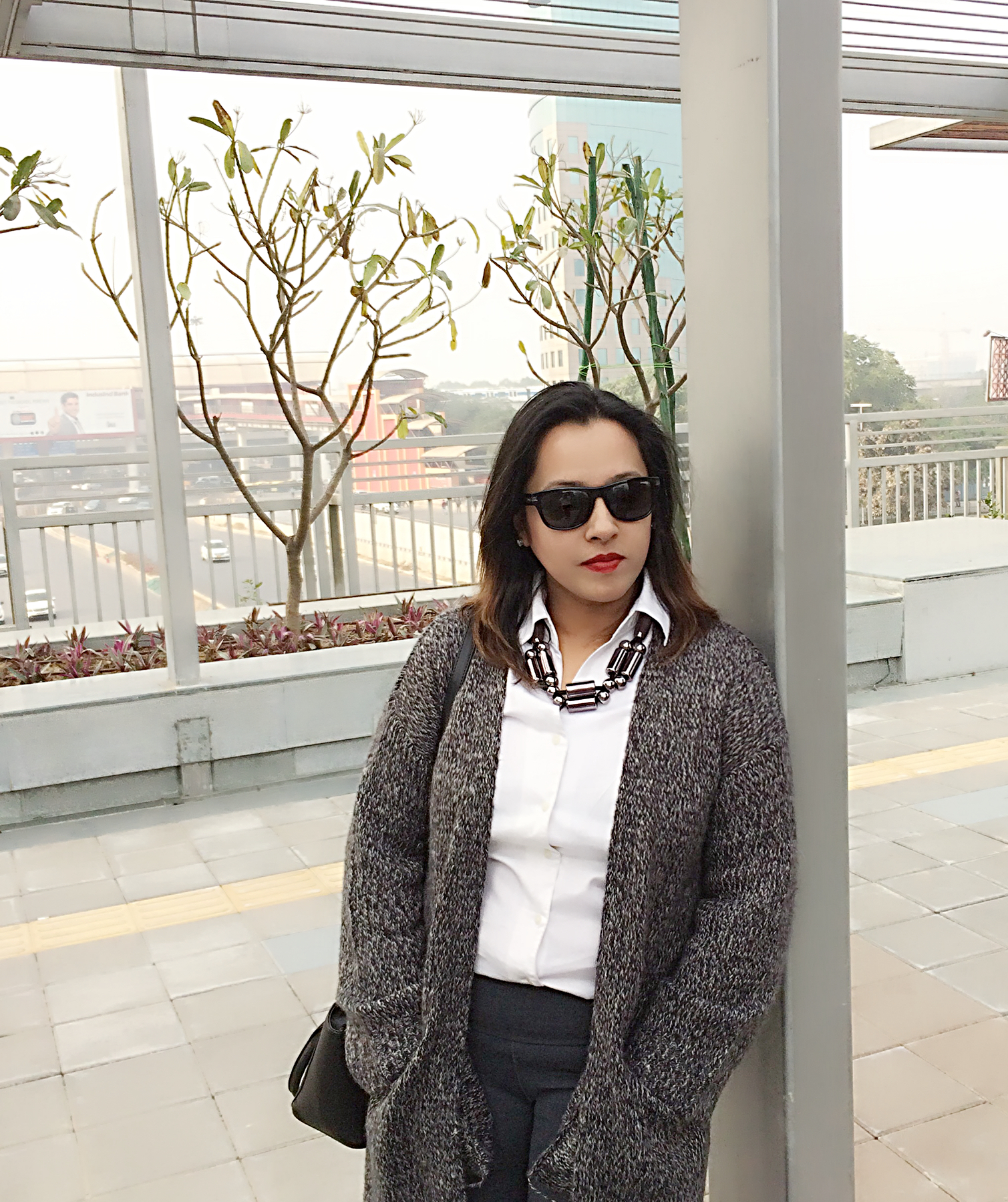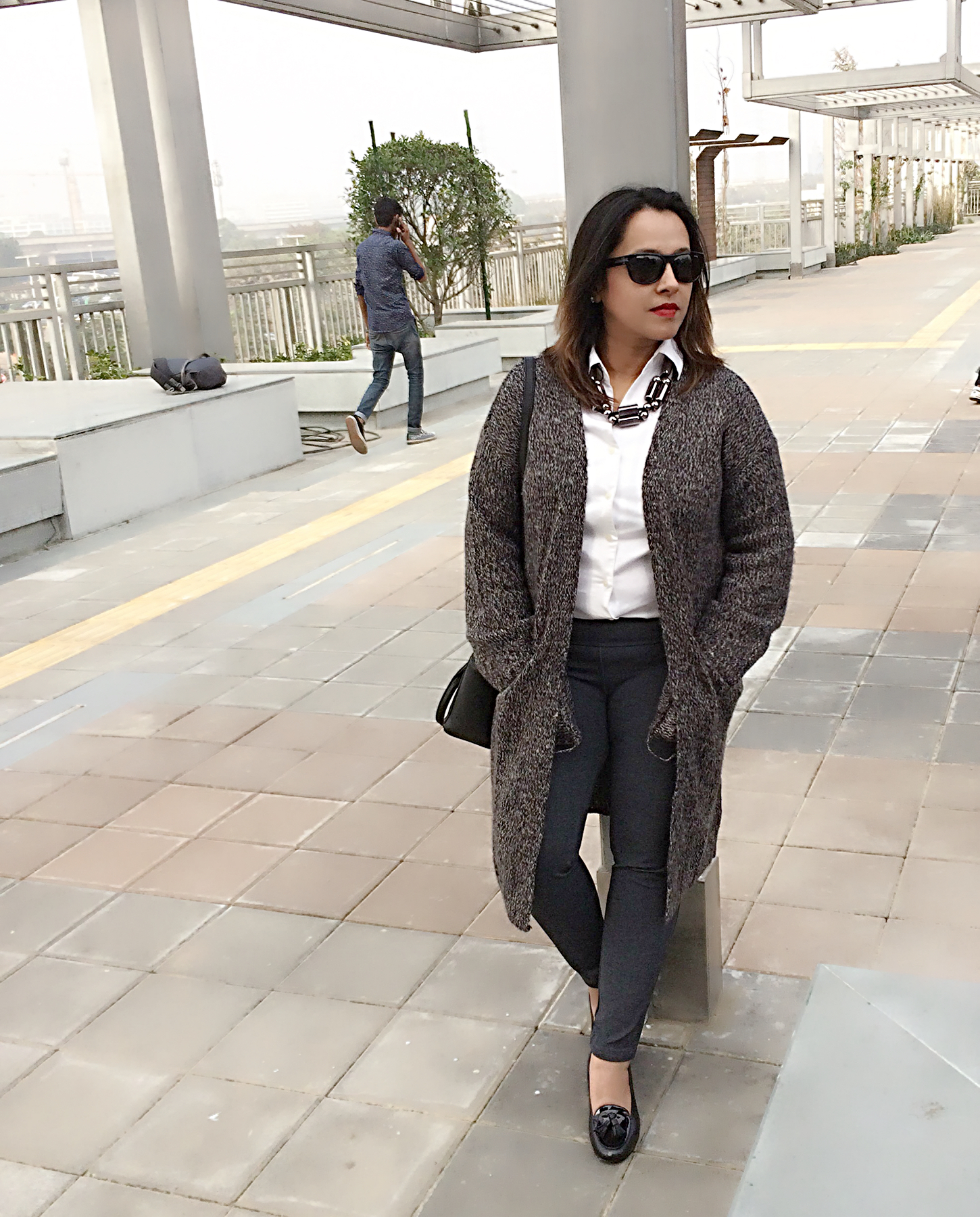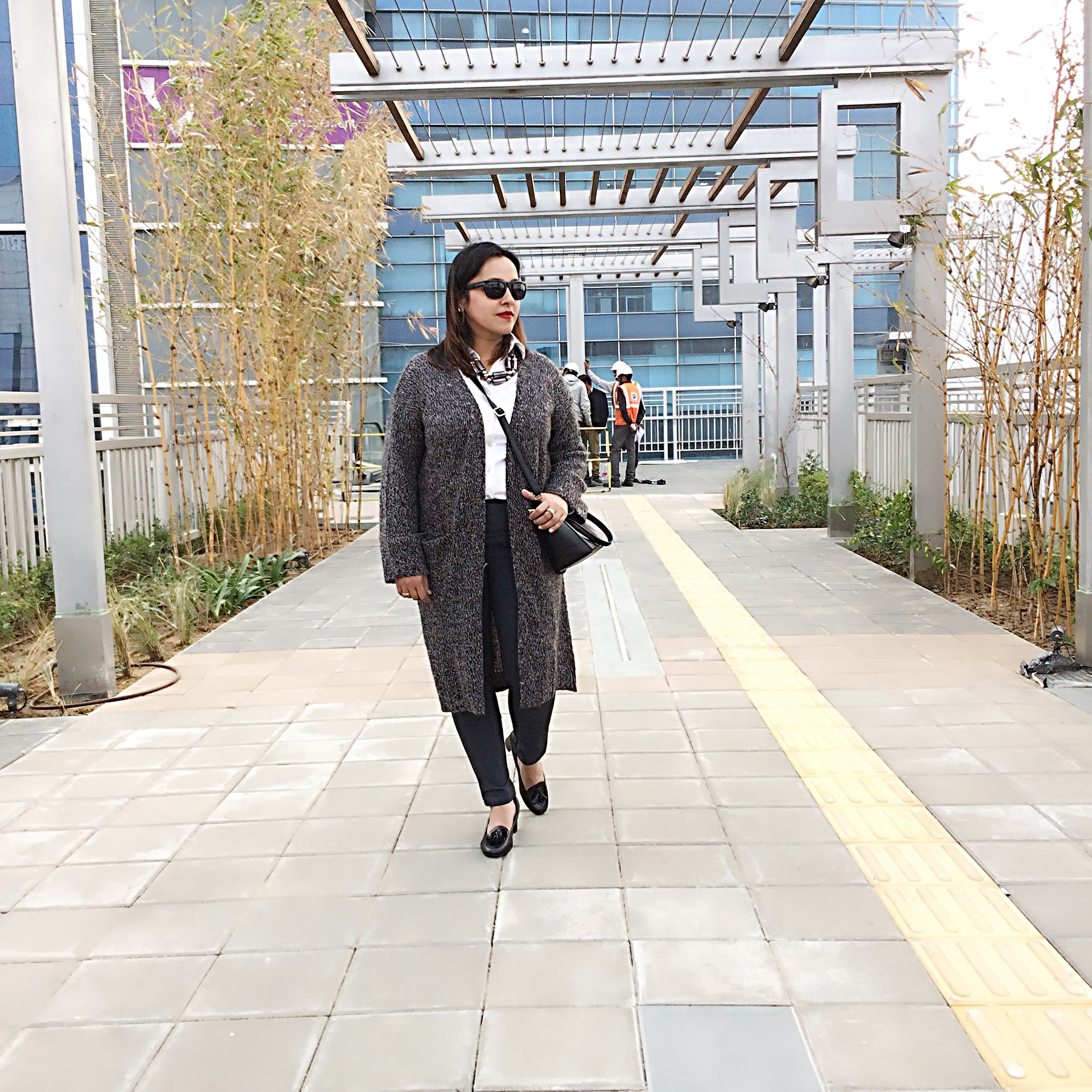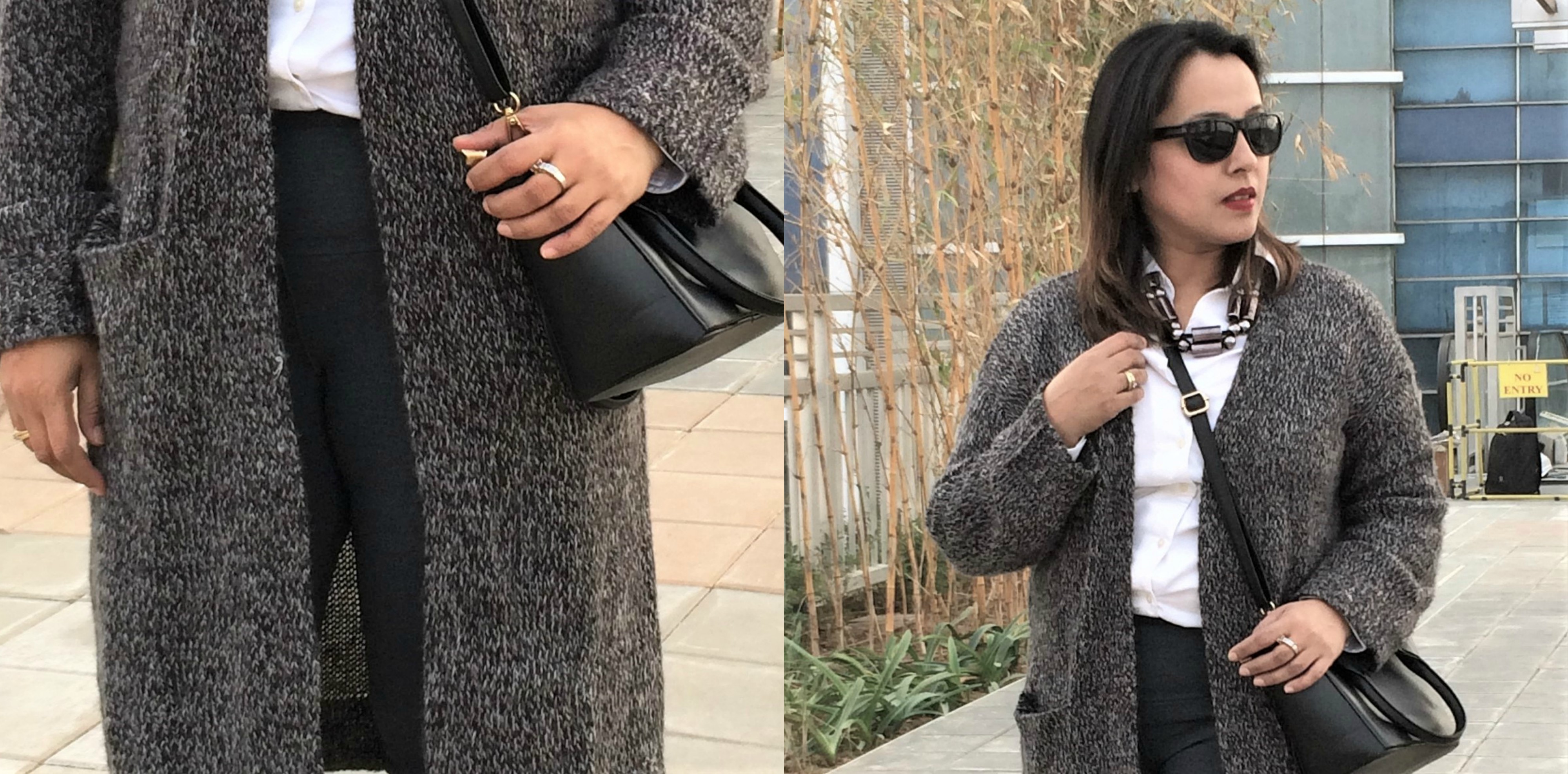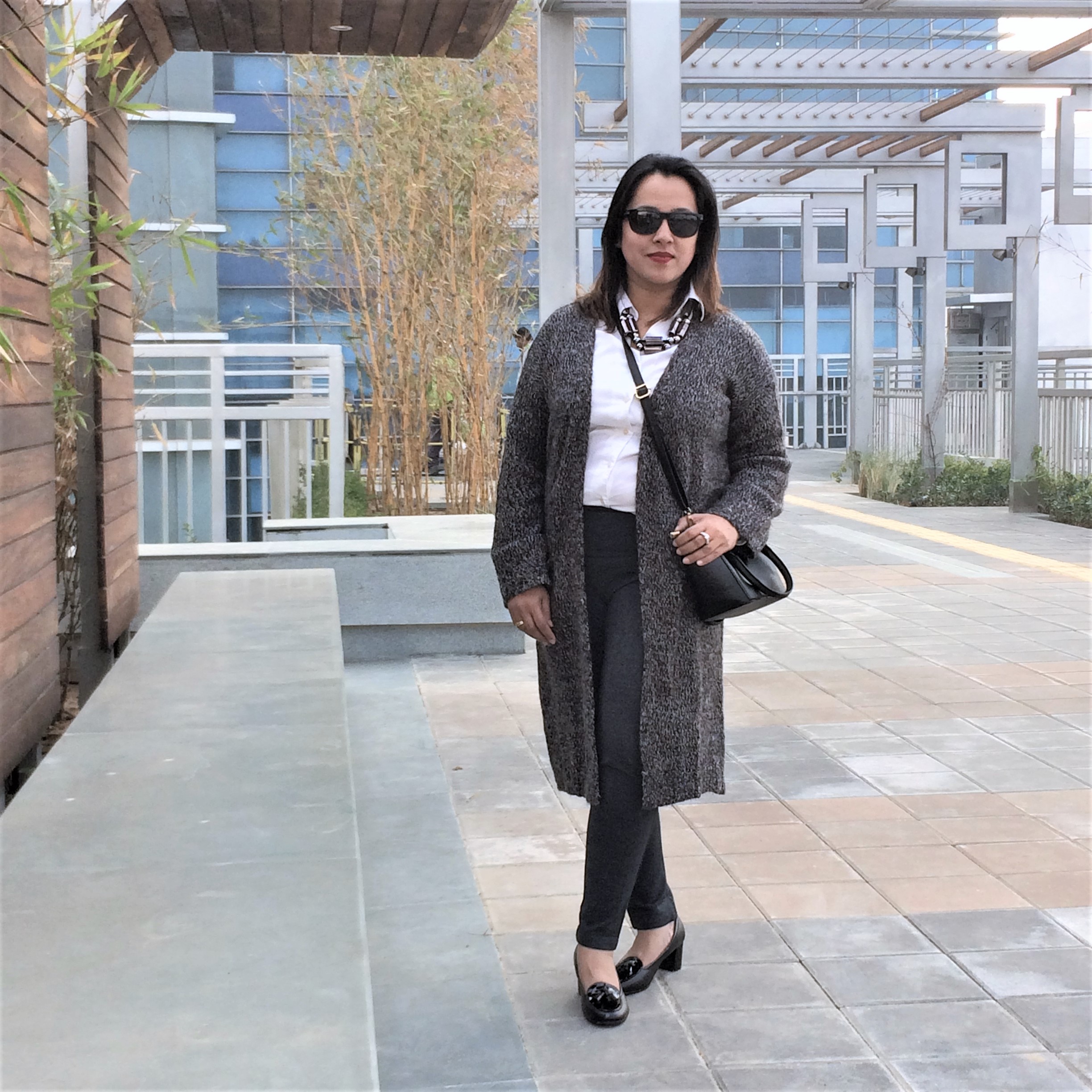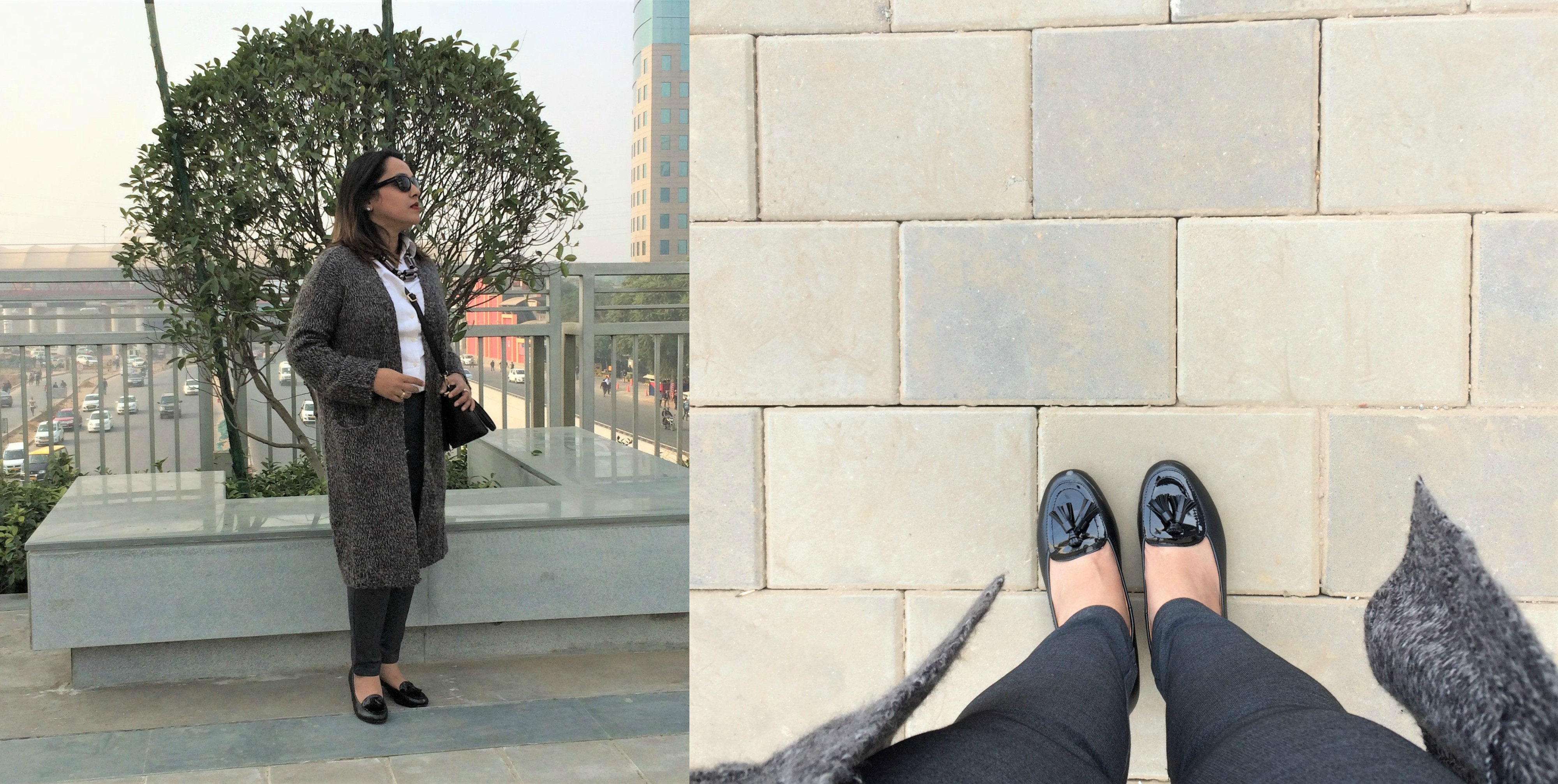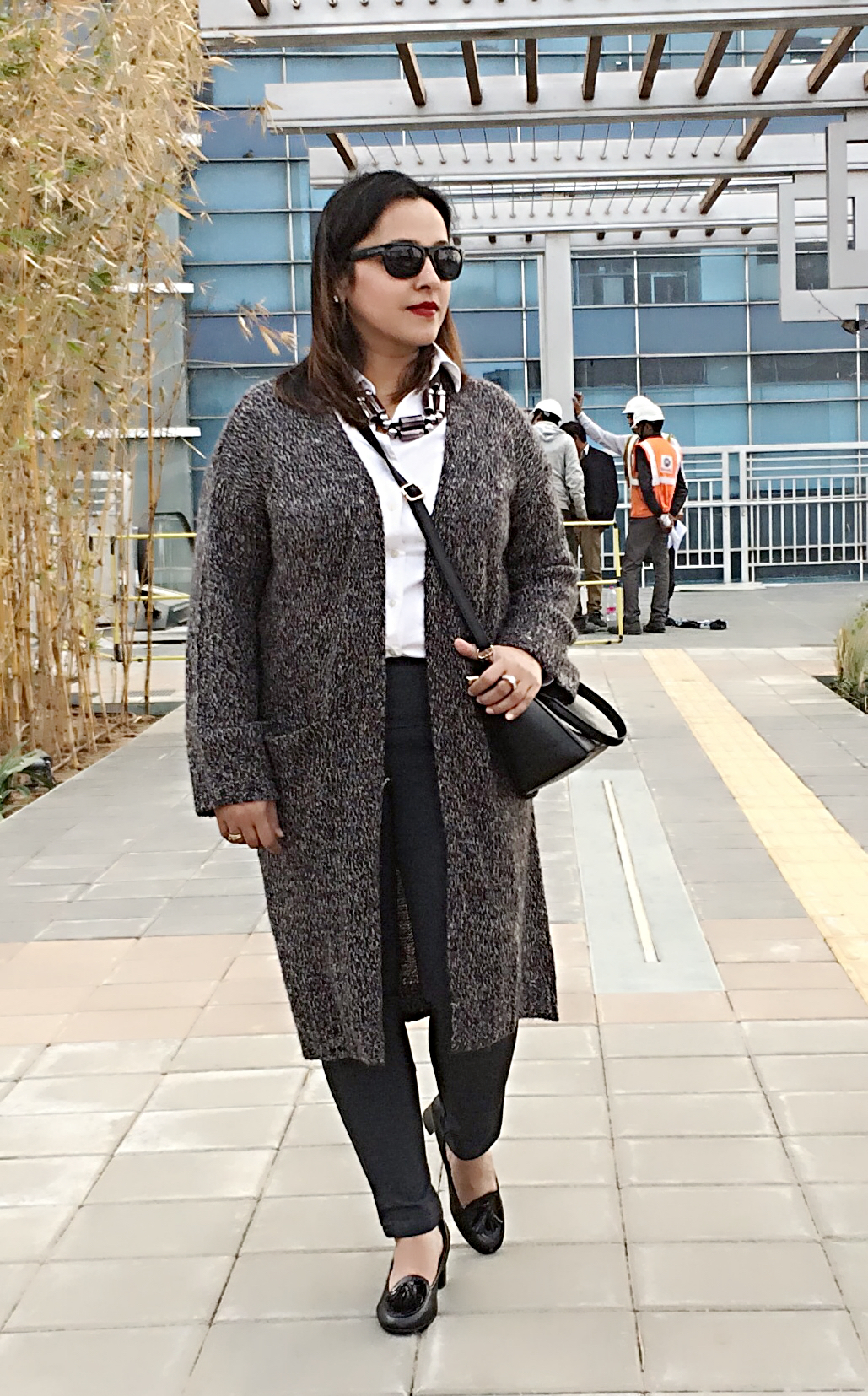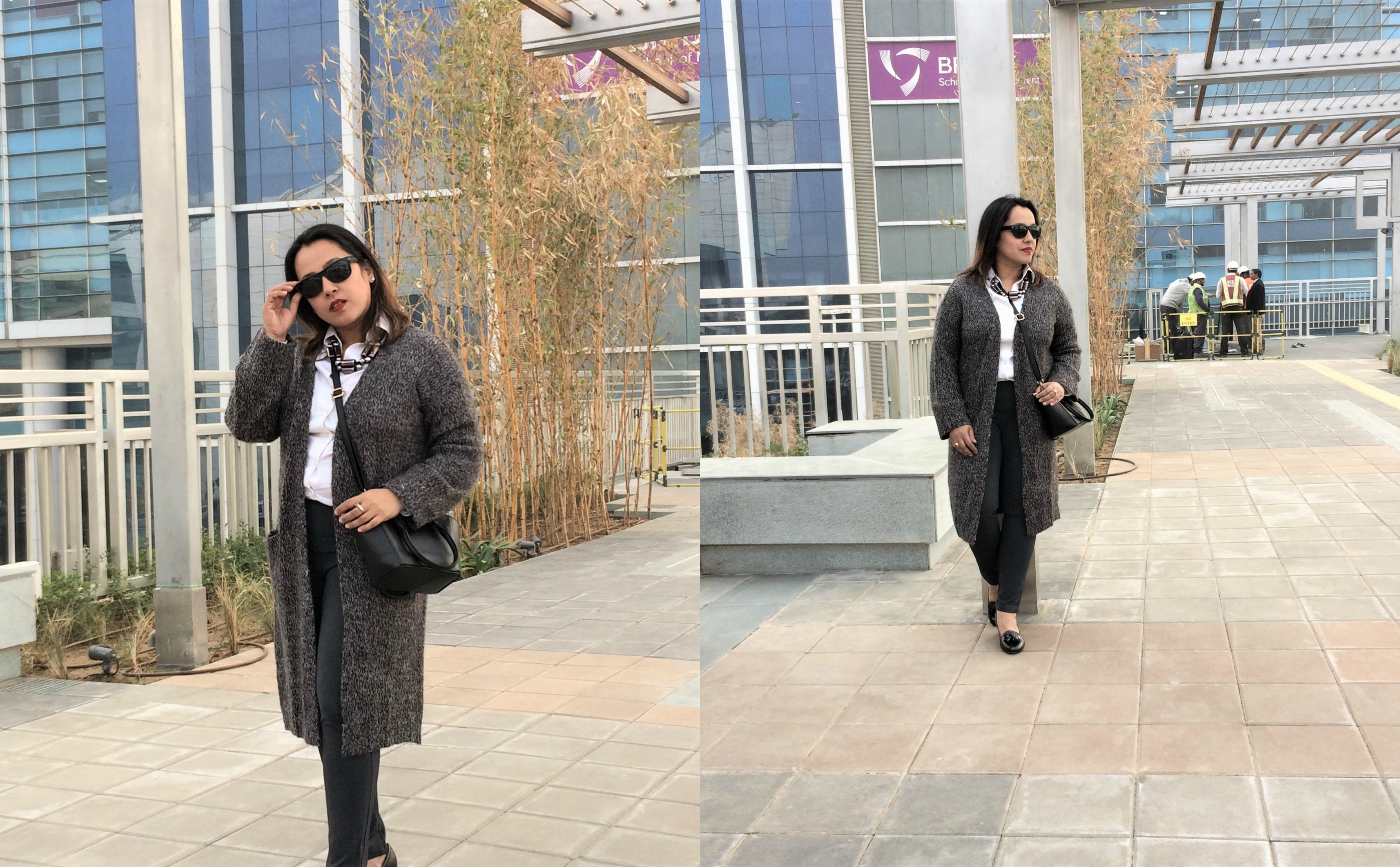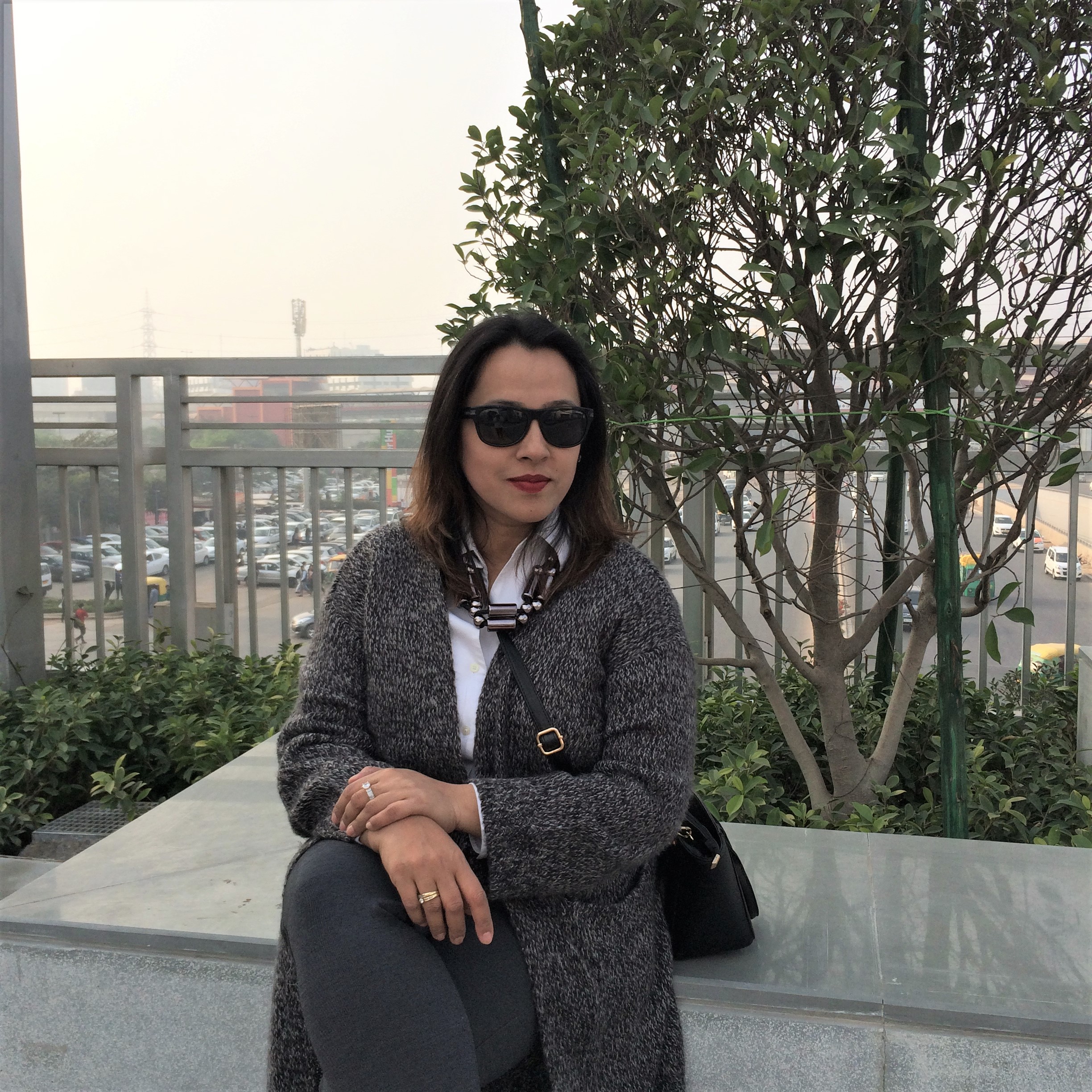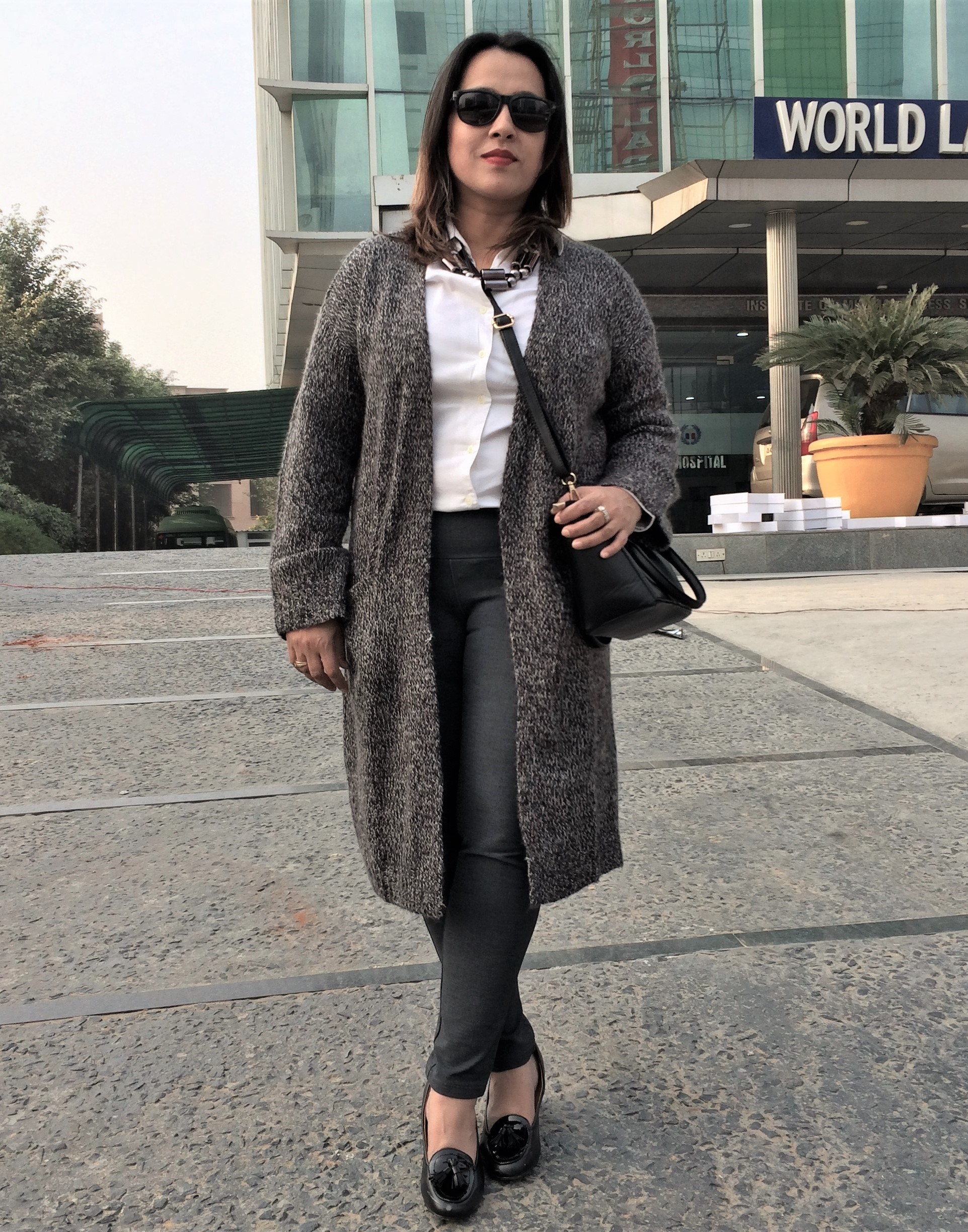 Chunky Gray Cardigan: H&M (Similar here) | Tassel Loafers : Zara (Similar here & here) | Gray Pants: Jabong | White Button down shirt: ITC Wills Lifestyle (Similar here, here & here) | Necklace: Bangkok Thrift Store (Similar here, here & here)