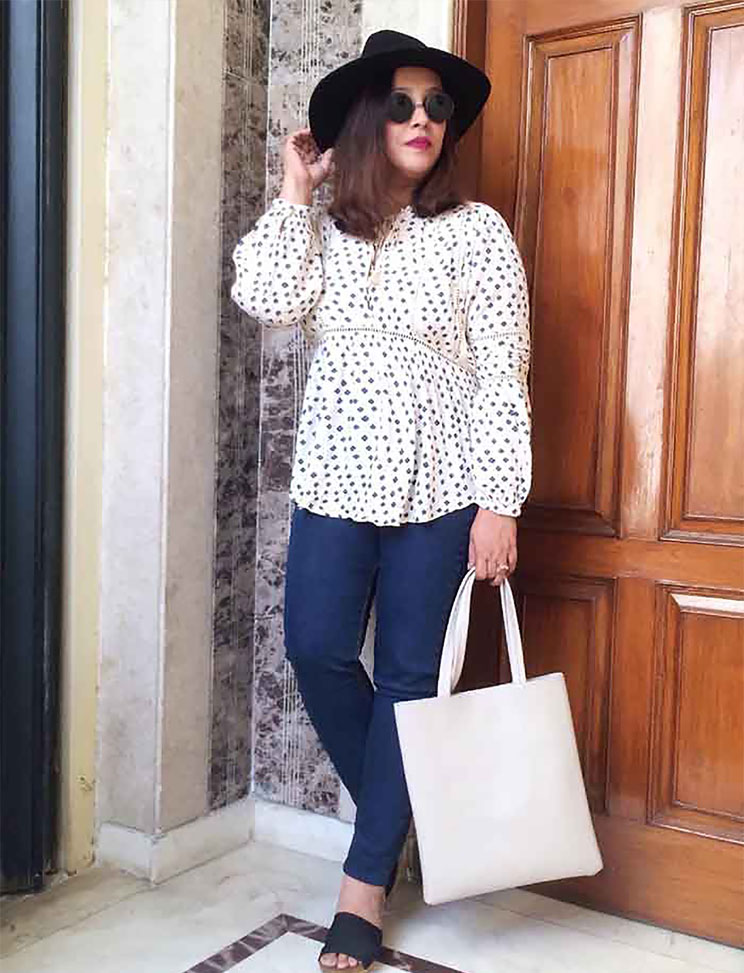 Peasant Top is nothing new when we talk of a spring/ summer fashion outing! What is new is actually the different versions of it that one can see in the stores, on the magazine covers, internet sites or even while walking on the road. They are of large variety in terms of patterns, silhouettes, cuts & styling. I have already worn peasant tops in the past with varying styles; some touching upon the core bohemian spirit and some on the boho chic aspect of these tops! Well recapitulating it's history a bit–this top was extremely popular back in 1960's when it was casually worn by artists, boho addicted ladies, peasants, and workmen. The style was typically gathered at the waist or hips so it hung loosely over the wearer's body. It was a style statement that screamed free-spirit, freedom and a casual, laid-back approach to life.The best part was it's affordability and adaptability to all kinds of body types. Continuing the informal vibe of these classic, evergreen, versatile tops, today's top brands are offering fabulous versions of them in wide range of prints & patterns be it floral, rainbow stripes, plaids or even abstracts. So if you are in search of something that will never go out of style, you must try one of these beautiful tops that look quite modern & fun.
So for today's look, I was inspired by one of peasant tops that I recently bought from Zara. It is a beautiful, breezy, light-weight top in beige with small blue flowers print on it. It has a typical tie detail in the front with gathered billowy sleeves that make this beauty a must buy. Because I wanted to give a trendy, modern spin on the look, I added a black hat that is the perfect accessory to beat the heat on the Delhi streets these days. It also paired well with my black platform slip-ons, which is also a recent buy and which I am totally hooked on to since the past few days. It's one of the most comfortable and versatile pairs of footwear that is super summer-friendly! My relaxed, casual look was further enhanced by the addition of a pale grey, minimal style, tote bag from Miniso that is super-chic & functional. I completed the look with my black round sunnies inspired by the classic Hollywood style!
I am so much in love with these retro inspired tops that can be dressed in so many different ways! One can look insanely hot by teaming a peasant blouse with suede skirts, tribal prints, floral headbands, chunky jewelry and other boho inspired accessories and garments. You can also add colorful prints & hues for a brighter, vibrant look. You may perhaps see my restyling this top for a casual bohemian inspired look sometime later.But one thing is certain–You surely have a reason to splurge this spring/ summer on these creatively patterned peasant tops that are a perfect way to making a definitive summer style statement.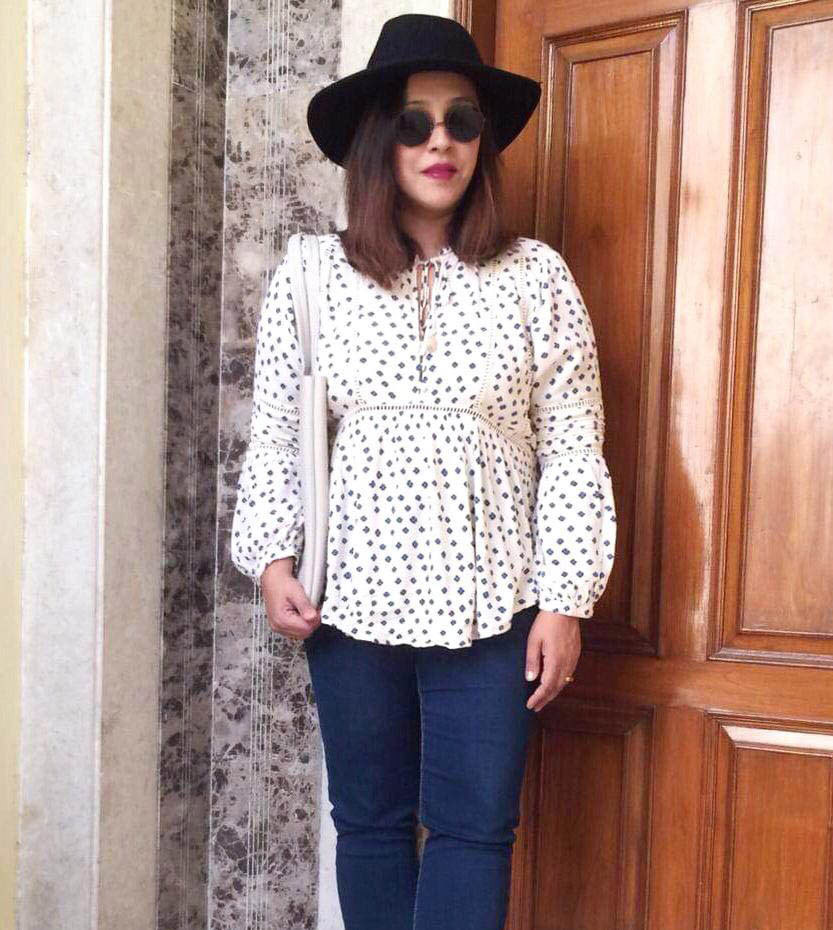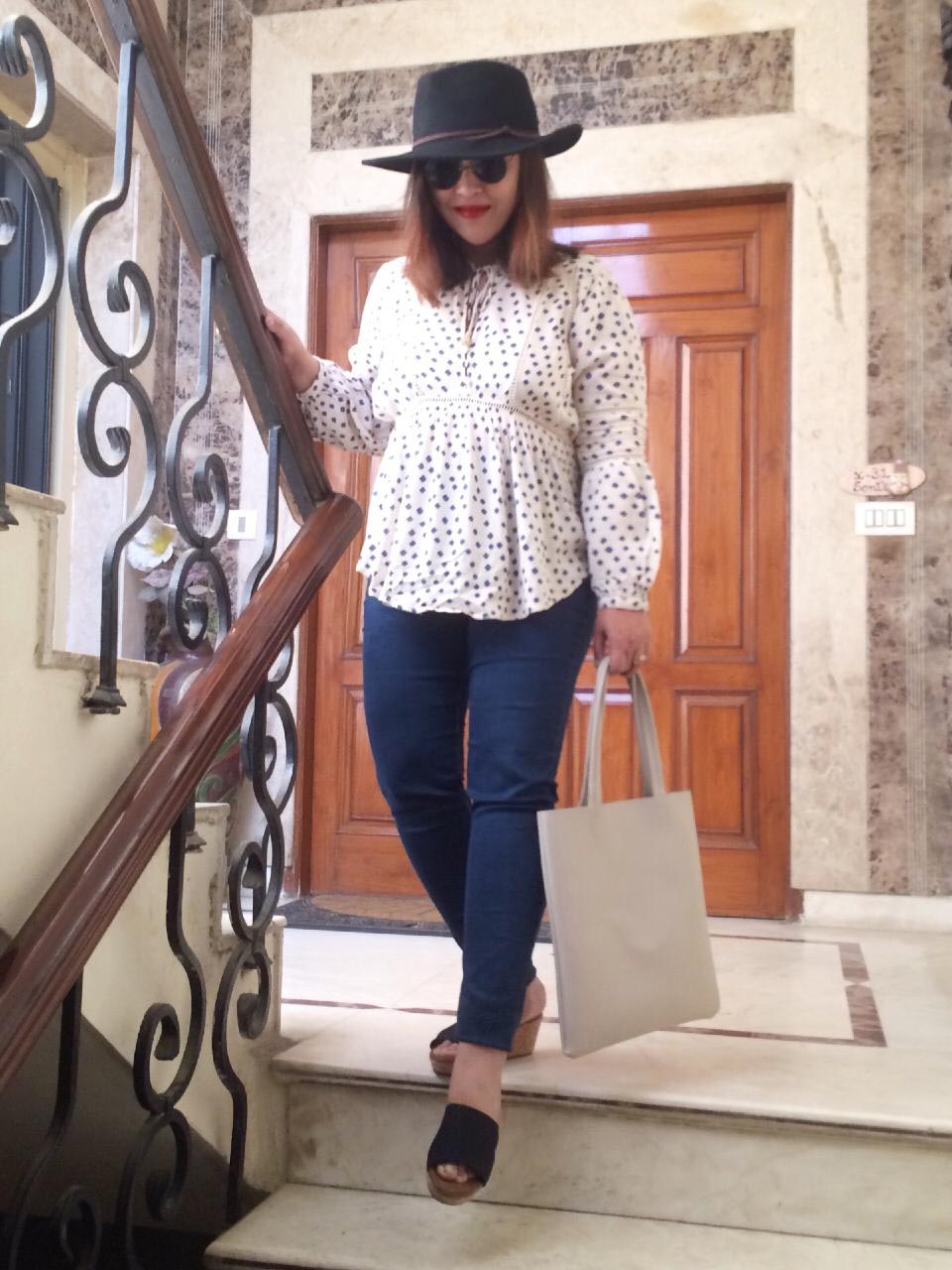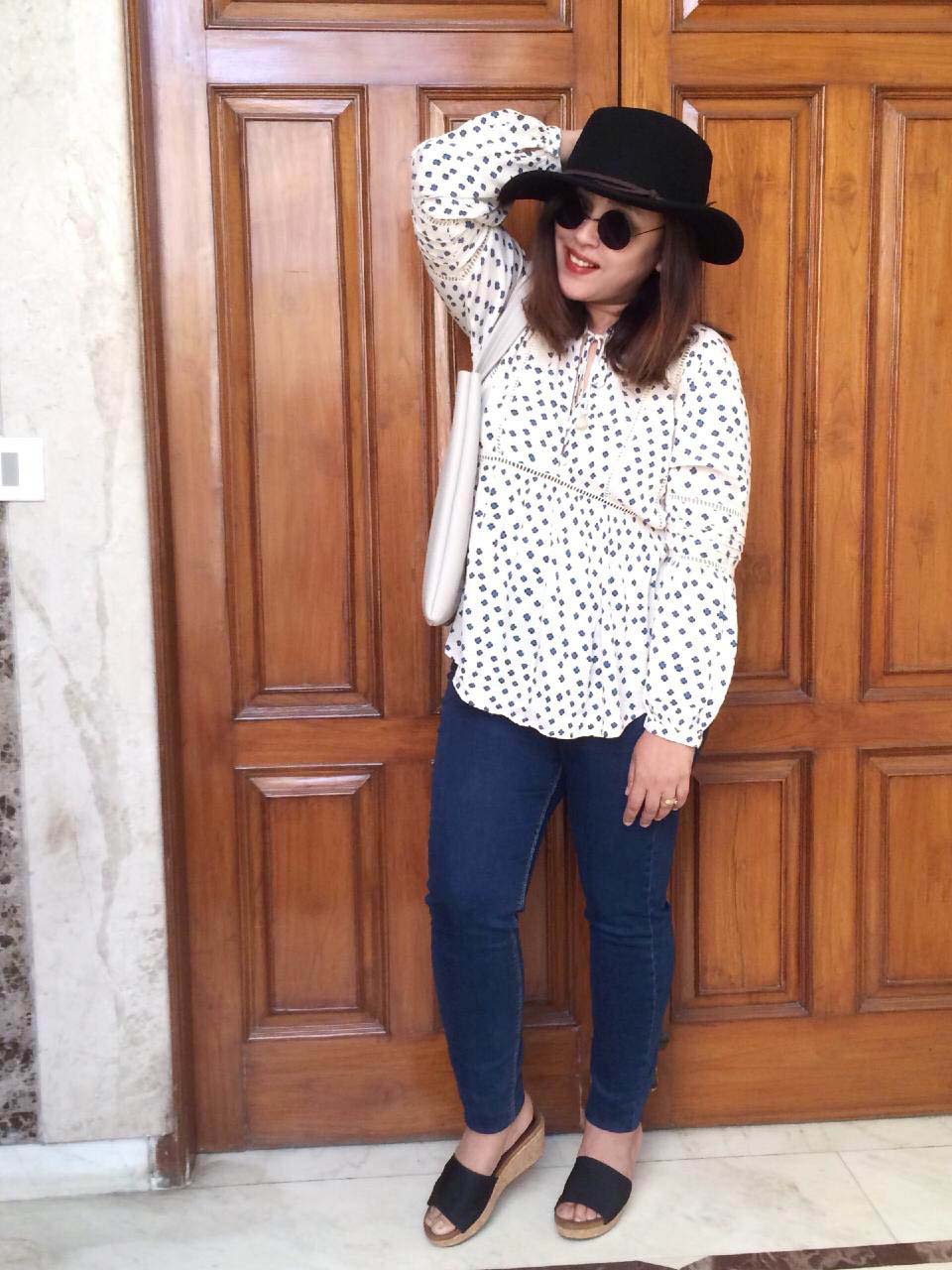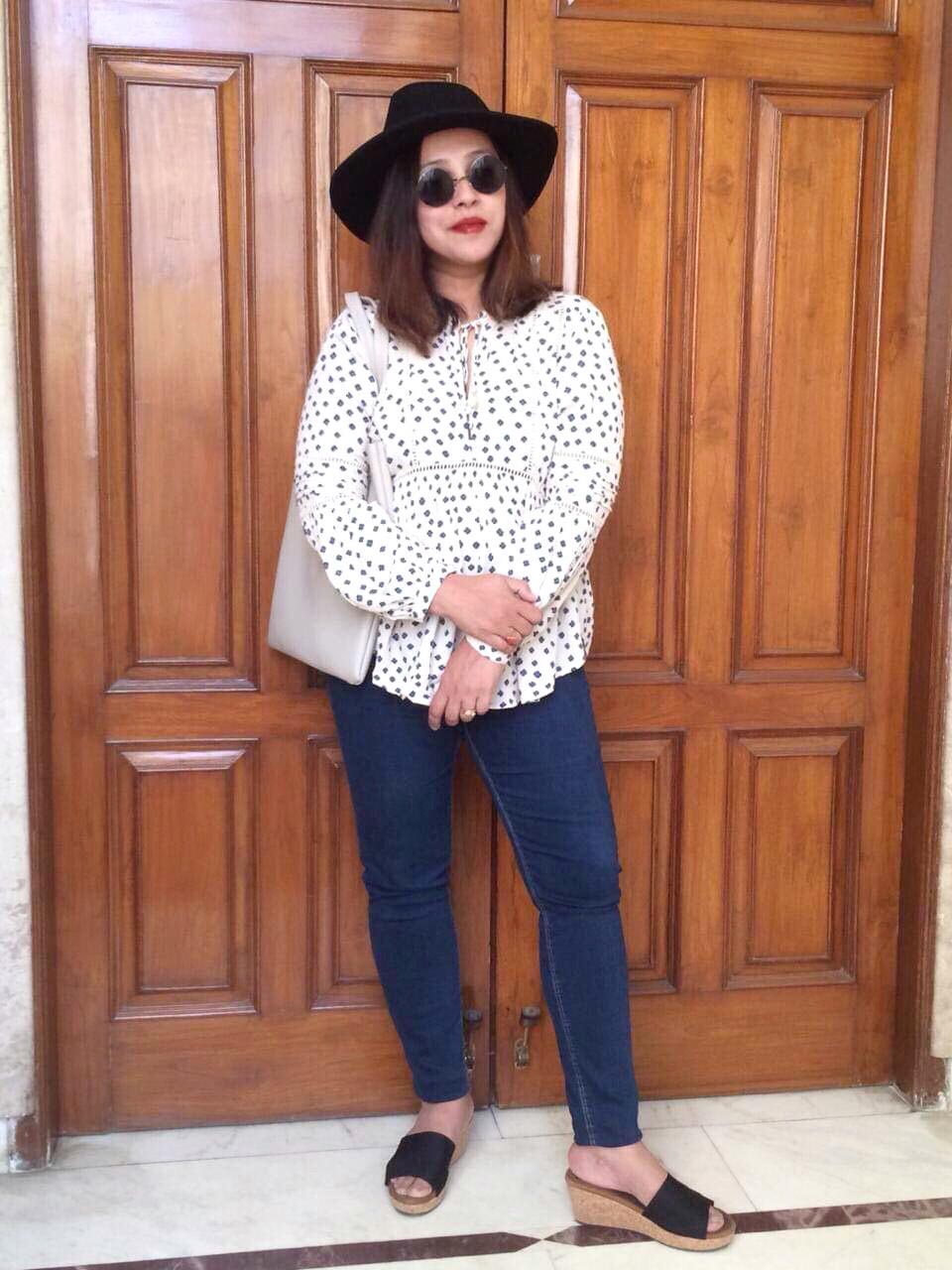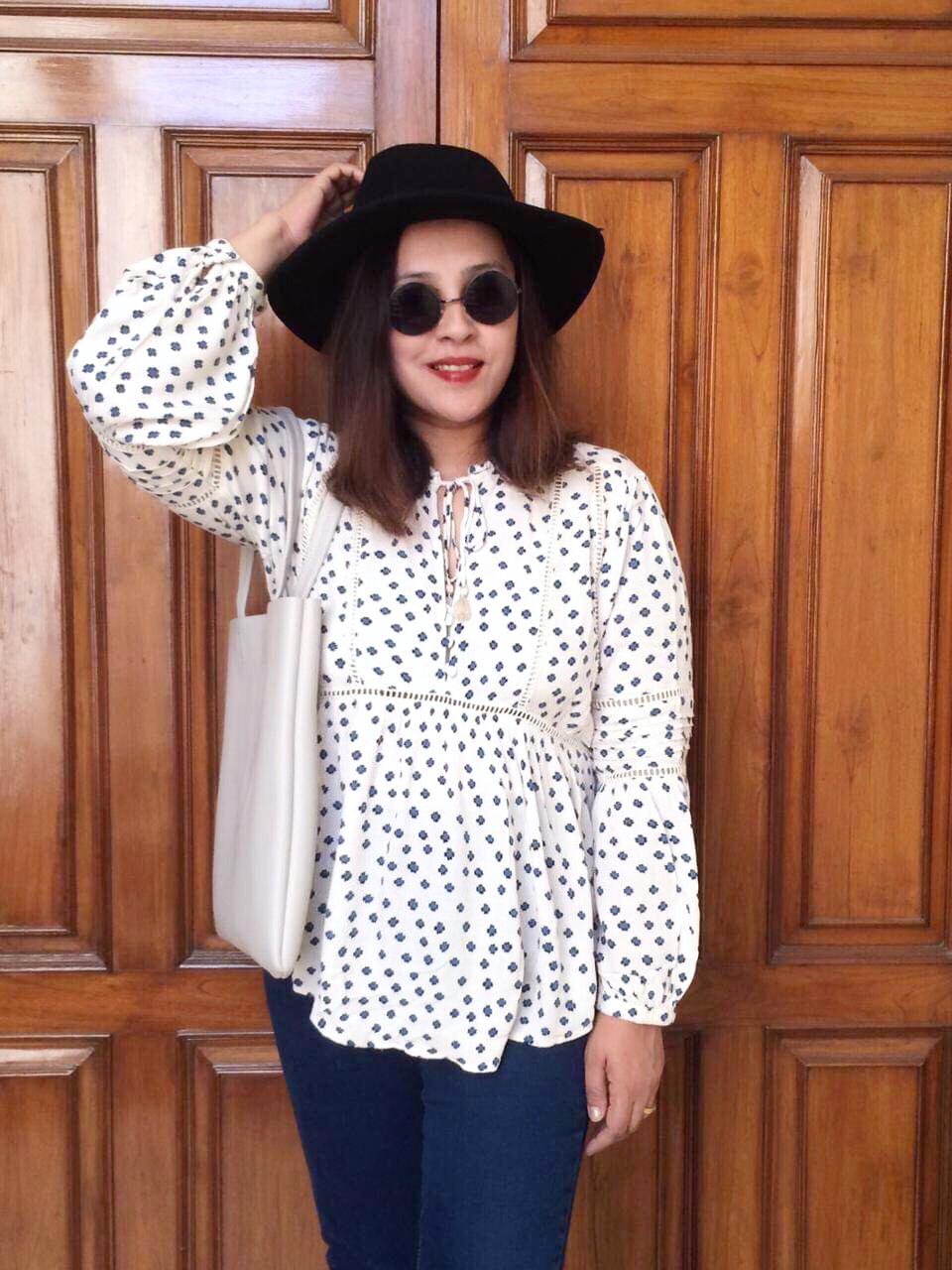 Peasant Top: Zara | Skinny Navy Jeans: Zara (Similar here) | Black Platform Slippers: Kins (Rajouri Garden Market) (Similar here & here) | Bag: Miniso | Black Fedora Hat: Forever 21 (Similar here)