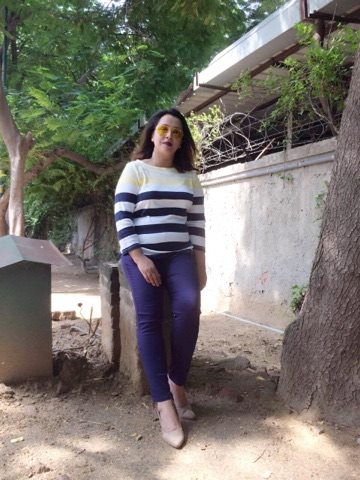 We have all seen that in the recent years stripes have become a wardrobe staple for majority of us. Age-appropriate, versatile and timeless, fashion has long been dedicated to the STRIPE. Bold or classic, wide or slim; stripes come in all shapes and sizes, and continue to pop up season after season. Being one of the hottest fashion trends since years now, there is one myth about stripes that needs to be debunked immediately! And that is—Horizontal stripes make you look fat while the vertical ones are figure flattering and make you look thin. Because of this myth, many a women have spent their lives avoiding horizontal stripes for fear of looking fat & bulky. The rule that horizontal stripes are a no-no has stuck. It's long been thought that horizontal lines appear to widen the silhouette, adding unwanted inches. However, the rise of stripe pattern in almost all kind of clothing pieces, both on and off catwalk, led people to question this ancient rule.
Dr Robert Thompson, a psychologist and expert in visual perception at the University of New York decided to tackle the theory once and for all with his study to determine if horizontal stripes make a person appear wider. After comparing almost 200 women and carrying out the experiments both with squares and oblongs and pictures of women wearing horizontal and vertical stripes, the findings were confirmed as follows—
Horizontal stripes don't make you look fat. Any person wearing vertical stripes looks wider than the person wearing horizontal stripes. Horizontal stripes, if anything, make you look thinner.
So after having been proved scientifically, we can all breathe a sigh of relief and wear our horizontal stripes with greater confidence, style & panache. You may be sure that just like any other trend, you now have a wider range of styles in this pattern which you may have shied away from earlier. Infact creating a winning look with horizontal stripes is one of the easiest and fun challenges for any fashionista.
With more & more people now believing horizontal stripes to be more figure flattering, they have become a perennial favourite in fashion collections too of almost all top designers. Designers including J. Crew, Juicy Couture and Stella McCartney are showcasing stripes on the ramp while navy-and-white striped Breton tops are ubiquitous in high street stores such as Zara, Mango and Gap. To refocus our attention, designers have zoomed in on the stripes and made them super size on the catwalk too. All this only goes to prove that horizontal stripes have been and will continue to rule the stripe pattern chart where this staple trend is concerned.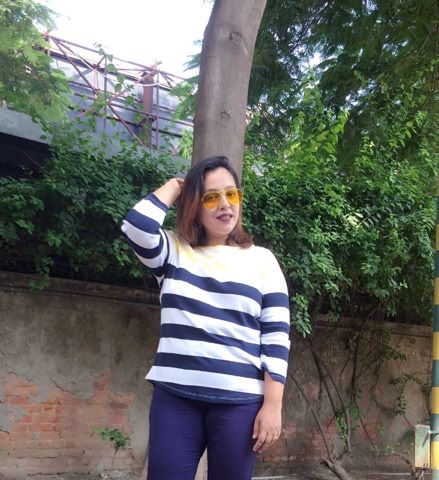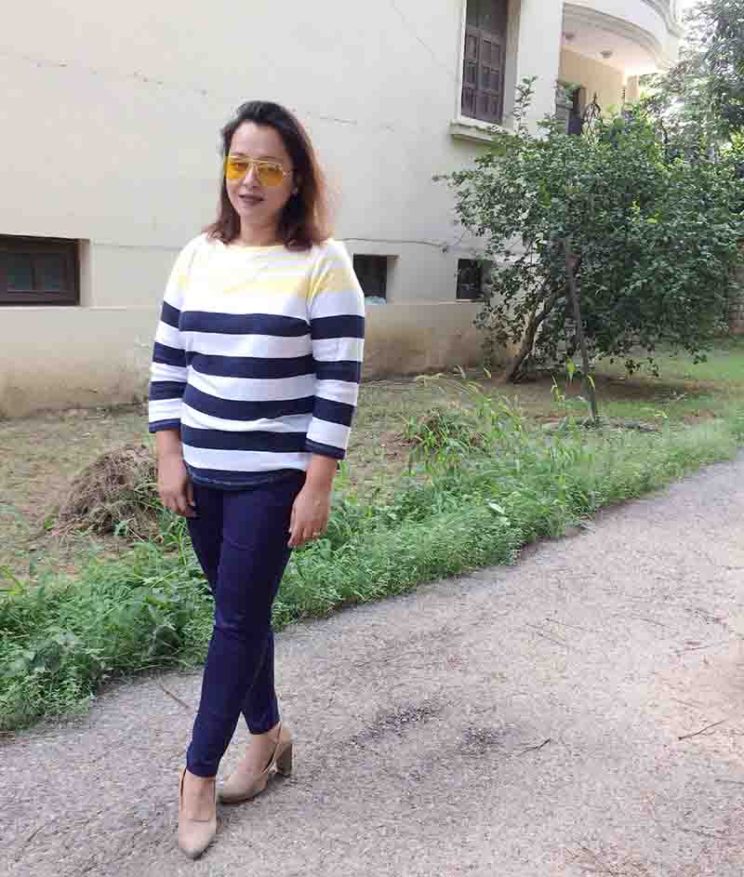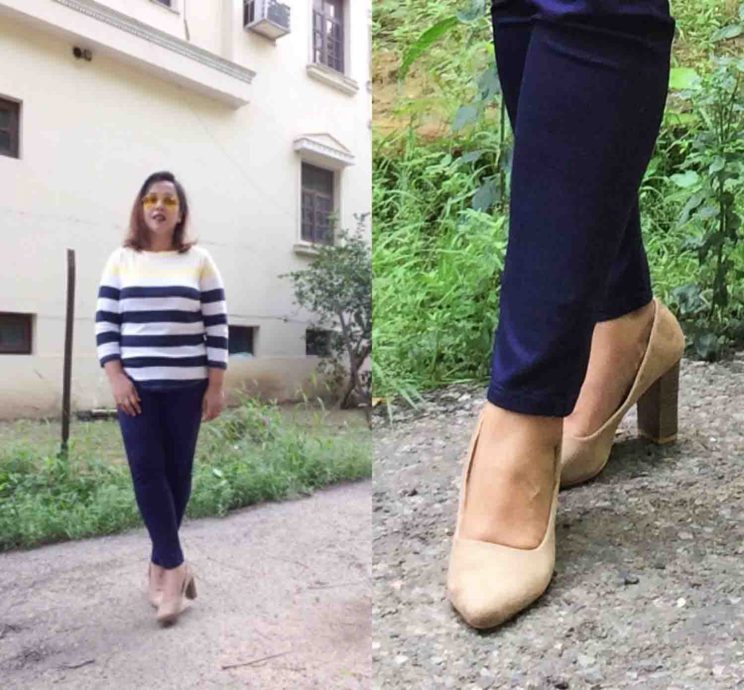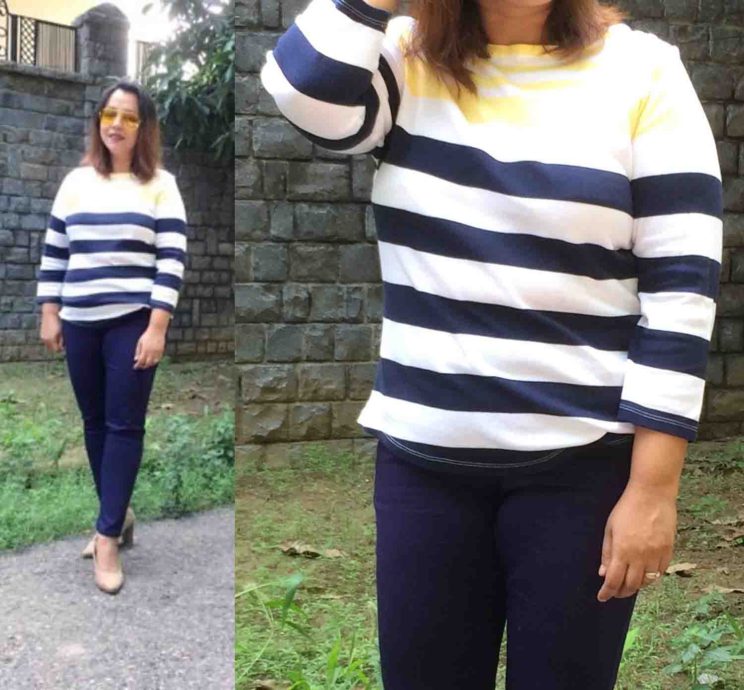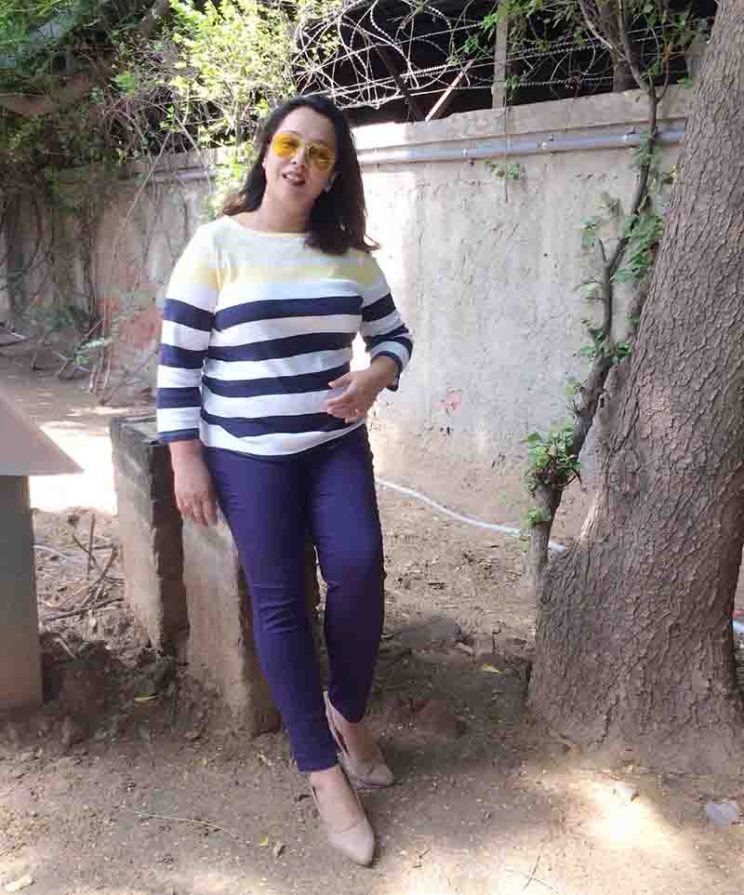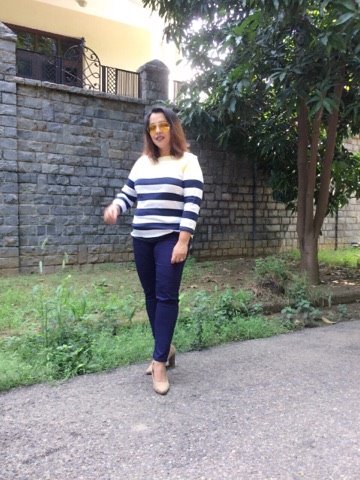 Stripe Top: Charter Club | Navy Pants: Global Republic | Beige Pumps: Vicenza | Sunglasses: Lenskart
FOR CONSTANT UPDATES, CONNECT TO:  FACEBOOK | TWITTER | INSTAGRAM